September 2012
There have been more than a few plays this season so far that A's fans will never forget. Those "I can't believe that happened" moments. Here are a few plays if you want to relive them again (and again, and again):
Coco getting picked off and somehow eluding TWO tags vs. NY:
The Donaldson-Rosales-Carter triple play against Minnesota: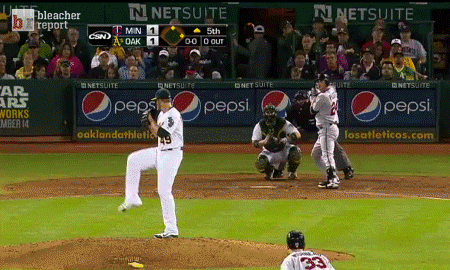 Top of the ninth, two out, tying run on first against Baltimore. Pinch runner Xavier Avery tries to steal second and is thrown out by Derek Norris to end the game. The energy in the building that night was ridiculous and to win that way was an amazing moment. I think Norris' reaction says it all:
It seems like someone different is stepping up for A's each game to seal the victory. One day Chris Carter hits a three-run bomb, another day A.J. Griffin goes perfect through 5 innings en route to another win. Maybe Pennington goes 4-4 with 2 RBI and 2 runs. With that in mind, we've started a new game in the Ticket Office. It's called "Another Day, Different A". The way it works is each person in the department picks the player they think will step of for the A's and be the top performer that game. Any player is available and can be selected more than one person. The photo shows the board from the Friday night demolition of the Red Sox, that ended up finishing 20-2. How do you pick who was the top performer when the team puts up 20 runs? To keep it fair, we use ESPN's Scorecenter app which shows the 'top performer' from each team once the game goes final. That night it was Brandon Moss, who went 4-5 with two doubles, a home run, 4 RBI and 4 runs scored. We're keeping track of who gets the most correct selections and the winner at the end of the year will win a PTBNL (prize to be named later).